Products
We offer four varieties of fir trees to suit your needs!
Fraser


Our most popular tree, the Fraser fir is native to North Carolina. It has dense, compact branches that turn upward at the tip, giving it a lush elegant look. The needles are soft, and a vivid dark green color. It has excellent needle retention, and a pleasing aroma.
Canaan
The Canaan fir is a full, fragrant Christmas tree, with strong branches to support your ornaments and lights. It looks similiar to a Fraser, but has the wonderful fragrance of a Balsam. The needles are soft, and are a pleasing dark green. Canaan firs can easily last until the New Year without browning or losing needles.
Nordman
Also know as an European fir, it is native to the mountains of the Black Sea. It has glossy green needles that do not readily drop, earning the nick name of "Hoover Friendly" It is the least fragrant Christmas tree, making it perfect for those with allergies.
Turkish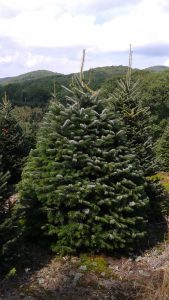 This is our latest tree, the Turkish Fir.  This tree comes from the mountains of Turkey.  It is known for outstanding needle retention.  It is a very full tree with sturdy branches.  It is becoming very popular with our customers.
Prices
Tallahassee customers see our Order Now page for prices.
Wreaths
We also sell handmade Christmas wreaths, in two sizes, 18″ and 24″. You can buy them plain, and decorate them yourself with your family, or for the busy family, buy them pre-decorated!